Influencing the overall well being and welfare of the citizens of our community
Welcome To The HealthStar Foundation
In 2001, HealthStar Physicians
created a not-for-profit foundation to administer the organization's charitable activities. The mission of the HealthStar Foundation is to influence the overall well being and welfare of the citizens of our community through charitable endowments.
The vision of the HealthStar Foundation
is to target the at risk population of the Lakeway Area by providing funding for programs in the following focus areas: teen pregnancy, obesity, drug/alcohol abuse and smoking.
The HealthStar Foundation is an independent 501(c)(3) nonprofit foundation.
HealthStar Foundation Application Form
The HealthStar Foundation is committed to serving the youth and "at risk" population of our community through programs and the mini-grant process. Through our grants we have assisted many organizations in achieving mutual goals. The directive of the HealthStar Foundation is to focus on teen pregnancy prevention, obesity, drug and alcohol abuse and smoking cessation.
The HealthStar Foundation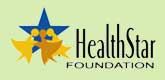 © Copyright 2023 | Healthstar Foundation